The 2020 team were able to explore the partially surviving first class cabin suite A16-18 and this is the story of the last occupants – The Hodges Family
This article was written by: Stuart Williamson, Clare Fitzsimmons and Peter Kelly
William S Hodges
(1879 – 1915)
Sara E Hodges
(1882 – 1915)
William S Hodges Jnr.
(1907 – 1915)
Dean W Hodges
(1910 – 1915)
William Sterling Hodges was born in the United States of America on 1st March 1879, the son of Mr. Hodges and Mrs. Mary B. Hodges. On 2nd June 1905 he married Sara E. Griesemer and in 1915, they lived at 2926, Lehigh Avenue, Philadelphia, Pennsylvania, with their two boys, William Sterling Junior, better known as "Billy", born in 1907 and Dean William, born in 1910.
From 1899, William Hodges senior was employed by The Baldwin Locomotive Works in Philadelphia, first as a draughtsman, then in sales, and finally becoming a mechanical engineer. His work took him on regular visits all over the world and after visiting China and Japan in 1914, he spent three months at home before leaving for Paris. On his return to America, he was promoted to take charge of the company's business in France and despite the war being fought there, and being devoted to his family, he decided to take them all with him when he returned to the French capital. His job there was to sell locomotives to the French government and to supervise the assembling of others sent there crated in pieces.
A business meeting there planned for 10th May, meant that he had to book saloon tickets for them all on the Lusitania's May sailing, to be sure of making this meeting and this sailing was scheduled to leave New York on the morning of the 1st.
Accordingly, having left Philadelphia at the end of April the party of four arrived at the Cunard berth, at Pier 54 in New York harbour on that morning and boarded the vessel with ticket number 14677.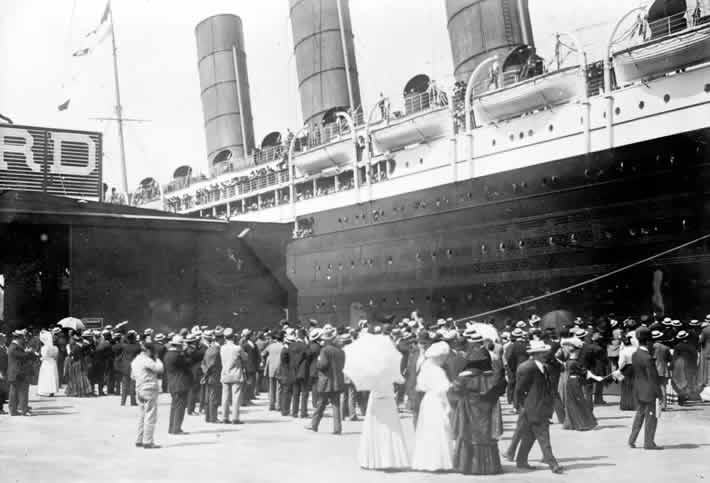 Lusitania Boarding – New York 1st May 1915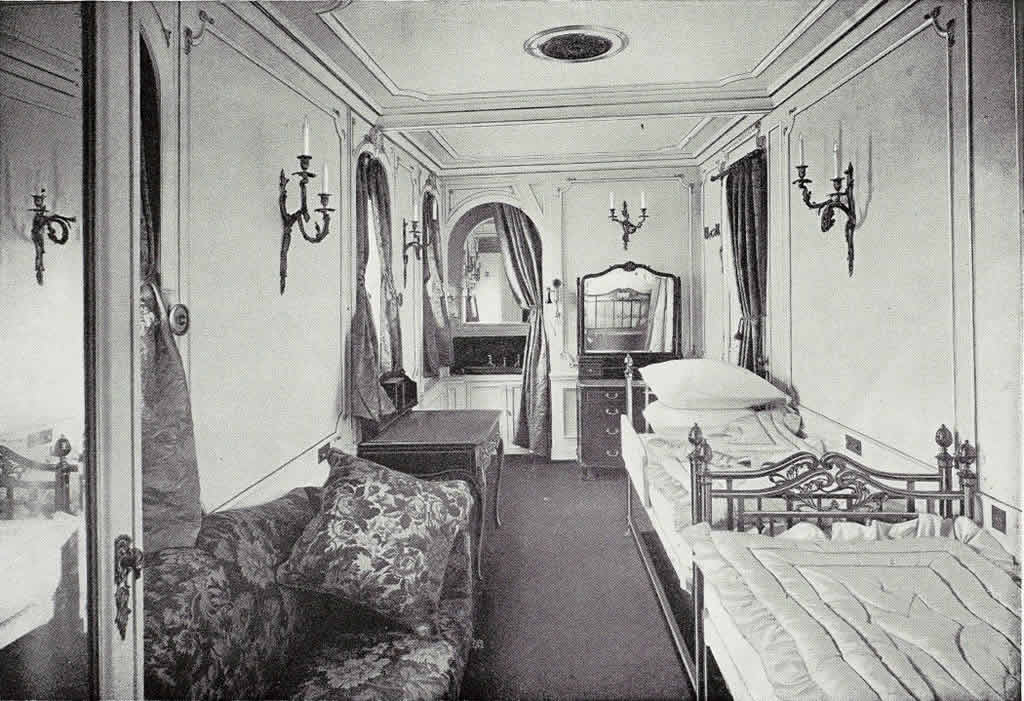 First Class En-Suite Cabin A16-18 – The Hodges Family Suite
Once on board, the family was escorted to its accommodation, Mr. and Mrs. Hodges sharing room A16, with the boys next door in A18. Both of these rooms were the personal responsibility of First Class Bedroom Steward John Perry who came from Seaforth on the outskirts of Liverpool.
The liner's departure was delayed until after mid-day to take on passengers, cargo and crew from the recently requisitioned Anchor Liner Cameronia and then, just six days later, on the afternoon of 7th May, the family was wiped out when the Lusitania was torpedoed and sunk twelve miles off the coast of Southern Ireland by the German submarine U-20. At that time the Lusitania was only hours (about 250 miles) away from her Liverpool destination.
One report states that as the ship was sinking, Sara Hodges was heard to say: – "If we go down, we'll all go down together!" So perhaps they were all together as the ship actually sank.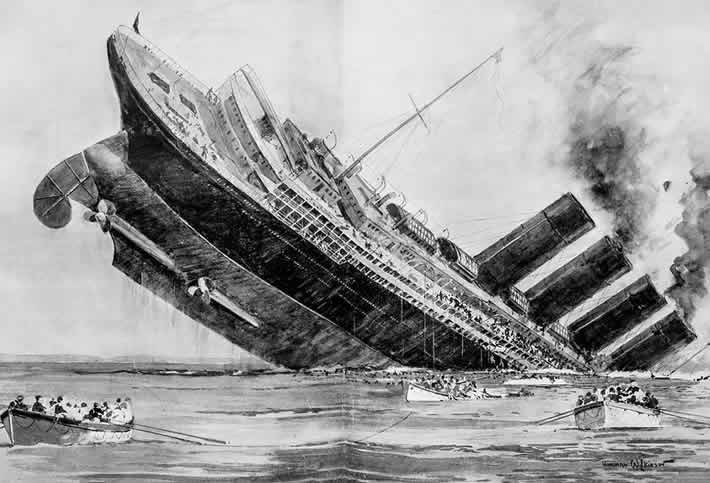 Only the bodies of Billy Hodges and his mother were recovered and identified. Hers was taken from the sea and landed at Queenstown, where it was sent to one of the temporary mortuaries set up there, given the reference number 209 and described as: "Female 33 or 34 years. 5' 4" dark hair and eyes, well shaped face, slight build, corded brown dress, good teeth, slightly long features, long neck, refined looking, and white woollen jacket with white bone buttons, 1 gold ring with initials W.L.H. and S.E.G. June 2nd 1905, 2 gold rings set with diamonds, 1 hair comb".
Then, on 16th May, the remains were buried in The Old Church Cemetery, above the town, in Mass Grave B, 5th Row, Lower Tier.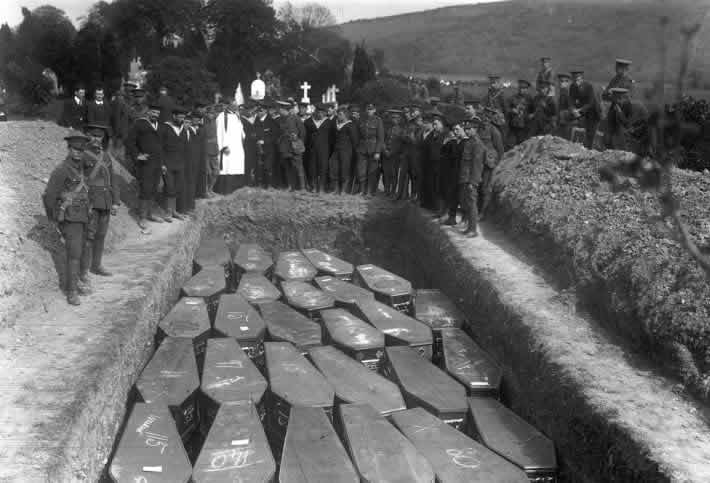 William Hodges was aged 35 years and his wife Sara was aged 32 years. 'Billy' was aged 8 and Dean aged 5.
It is probable that as Sara's burial was carried out in Queenstown, the body had not been identified before its interment, as the bodies of most American saloon passengers were embalmed in preparation for travelling for burial in their home country. Thus it is likely that the identity of body No. 209 was ascertained at a later date by family in Philadelphia from property recovered from it. Either way, this property – described above – was put on board the Cunarder Saxonia on 28th September 1915, for shipment to Cunard's New York office, from where it was delivered to a Mr. W.B.S. Ferguson, of 501, Lincoln Building, Philadelphia, who was an attorney. He then presumably then made sure that it was given to the remaining family.
Bedroom Steward Perry, who had looked after the Hodges family in room A16 also perished in the sinking and never saw his Seaforth home again.
The Hodges Cabin A16-18 As It Is Now
The following pictures were taken on the Project 17 dive during August 2020 and show the remains of what was once the first class cabin 18A – part of the adjoined family suite of 16A – 18A as used by the Hodges family on their fateful journey to Liverpool.
After the War, Sara's widowed father, Levi B. Griesemer, and William's widowed mother, Mrs. Mary B. Hodges, filed claims for the loss of their respective children with the Mixed Claims Commission, claiming that they were both dependant on their off-spring. Mr. Griesemer's claim stated that for more than a year prior to his daughter's death, he had been too ill to work and was financially assisted by her. She used to send him small sums of money to help him get by. He eventually recovered sufficiently to return to work, but had again fallen ill in 1922 and was again unable to work and was an inmate of the "Red Men's Home". He was now being assisted by another of his daughter's, who was older than Sara. On 21st February 1924, the Mixed Claims Commission awarded Levi B. Griesemer the sum of $2,500.00 compensation.
Mrs. Hodges' claim stated that since her glass stainer husband's death in February 1914, she had been dependant on her two sons, one being William, who financially assisted her. William was contributing $750.00 annually to support her. Following William's death, she had been paid $11,000.00 from his life assurance policies. She was now totally dependant on her sole surviving son. On 21st February 1924, the Mixed Claims Commission awarded Mrs. Mary B. Hodges the sum of $9,000.00 compensation.
Cunard Records, Mixed Claims Commission Docket No. 274 & 481, New York Times, Philadelphia Public Ledger, PRO BT 100/345, Tragedy of the Lusitania, Geoff Whitfield, Stuart Williamson.