The Various Scientific Projects The Lusitania Project 17 Teams Are Involved With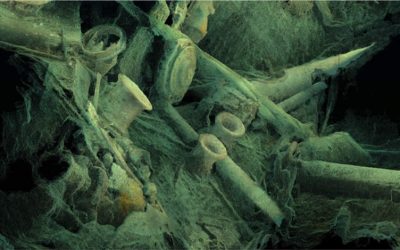 Report by Kari Hyttinen - Dundee UniversityKari...
read more
The Lusitania sank in comparitively shallow water of 91 metres which in itself caused extensive damage to the superstructure on impact with the sea floor. This initial damage plus the normal metal salt water errosion and aggressive Atlantic tidal currents over more than 100 years has lead to the wreck deteriorating rapidly.
With today's scientific equipment and experts along with our ever increasing year by year experience of diving on the wreck it is a fantastic opportunity to help in gathering as much data as possible in order to preserve the memory of the RMS Lusitania.
Current Research Projects being undertaken and advanced with each year's dive are:
3D Photogrammetry
Kari Hyttinen, University Of Dundee
Shipwreck Structure & Biodiversity Study
Dr. Clare Fitzsimmons, School of Natural and Environmental Sciences, Newcastle University
Multibeam & ROV Surveying
Dr Gerard Dooly, Centre for Robotics & Intelligent Systems, University of Limerick
Please use the links on this page to view more information on the individual projects.
Periodic project update reports will be posted in our main Articles/Blog.
See also below for latest report posts
Latest Project Update Reports